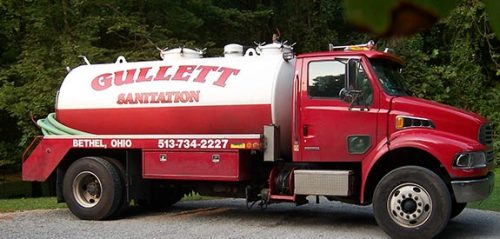 About Gullet Sanitation
Our mission at Gullett Sanitation Services is to provide our clients with a professional, economical, and environmentally responsible contracting service while maintaining the utmost respect and regard for protecting the environment, our customers, and the public. To this end, we specialize in home sewer services and biosolids, utilizing experience that far exceeds all of our competition. Let us put our reliability, stability, and state-of-the-art equipment to work for you by contacting us now in Bethel, Ohio, for superb septic systems tank services.
Company Profile
Gullett Sanitation Services was founded in 1942 by Thurman H. Gullett, who operated the company until his retirement in 1985. At that time, Dan J. Gullett acquired a majority holding in the company and since then has acted as president of the corporation, overseeing the day-to-day operations. Gullett Sanitation is located in Bethel, outside Cincinnati in Southwest Ohio.
Since its founding, Gullett Sanitation has been providing home septic systems tank services to its clients. In the early 1970s, Gullett Sanitation began providing biosolids sewer sludge services, transportations, and land applications for beneficial reuse to municipal clients in Ohio. In 1995, we added mobile dewatering to our list of wastewater services and are now proud to offer this service nationwide.
Gullett Sanitation is Proud to Offer These Quality Septic Systems Tank Services
Mobile Mechanical Dewatering
Aeration Service & Repair
Septic Systems Tank Service & Repair
Waste Water Transportation
Lagoon Cleaning & Sludge Disposal
Digester Cleaning
Beneficial Reuse of Biosolids
High-Pressure Water Jetting
Proudly Serving the Greater Cincinnati & Northern Kentucky Area, Including Hamilton, Clermont, Brown, Highland, & Warren Counties